Posted by Unpredicted in
iPhone
on 10 21st, 2009 |
no responses
>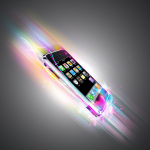 Yeah, I finally got rid of my CrackBerry and broke down and bought an iPhone last week. I hate to admit it but it has changed my life. I'm a die-hard BlackBerry fan so it took me a while to make a decision but I went with it because of the various apps and the fact that a ton of people said that the Bold sucked. The phone is great and I can't stay off of it – much to my husband's chagrin. An interesting app I downloaded was one called Ghost Radar. I like anything paranormal related so I downloaded it and immediately freaked myself out.
The app is supposed to be able to measure small changes in something called quantum fluctuations and displays the results with text and numerical readouts. If you go to the site it explains it a lot better than I can…. Basically you have to determine if the changes are paranormal or not. I am still skeptical but it returned some interesting results:  When I first turned it on, I saw a ton of colored blips appear on my screen. According to the site, Red is the strongest, then Yellow, Green, and Blue is the weakest. I had a grip of Red items on my screen. I had nothing when I first turned it on, but when I went upstairs and into the bathroom the screen was lit with Red. The words across came on the screen and I turned it off. My room is down the hall and it freaked me out. I also stated in other posts that something keeps turning on my husband's light. I turned the app back on and decided to keep it on for a while. The next word was year. Ok. Nothing weird about that. I started to wash my face and the word fresh popped on the screen. WTF?! Then the word children. I do believe a child ghost is in my home but I've said that before. A bunch of other words popped up but nothing odd except for the last one and that's why it's the last one – it freaked me out. I brought my food down to the basement to eat and the word full popped up. Coincidence? Maybe, but it scared me enough to turn it off for the night. *laughing*
All in all, I don't think it's real but it's fun to play with. Maybe if it said my name or something like that I would be a believer. It lets you email the results to yourself like I did below and for .99 it's a good cheap thrill and I highly recommend it.
Radar start: Tuesday, Oct 20, 2009, 6:56 PM
Radar end: Tuesday, Oct 20, 2009, 7:22 PM
Settings:
Medium Sensitivity
Words Spoken:
6:57:29 PM : year
7:02:54 PM : fresh
7:03:33 PM : children
7:05:17 PM : grown
7:05:43 PM : construction
7:07:27 PM : night
7:10:29 PM : pencil
7:10:55 PM : exercise
7:11:47 PM : by
7:12:13 PM : kind
7:13:44 PM : sets
7:16:20 PM : become
7:16:33 PM : found
7:17:25 PM : city
7:18:43 PM : Mexico
7:20:53 PM : full