Posted by Unpredicted in
Life
on 11 16th, 2009 |
no responses
>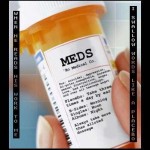 So I've been taking my new antidepressant for over two weeks now and was scared to up my dose. I was told to take half a pill, 25 mg, and then in a week up it to at full pill which is 50 mg. I was doing fine on half of one and I was able to get through my day without feeling down. Now when I first took it, my feelings were very flat.  A bus could have hit someone in front of me and I could have won the lottery and I would have acted the same – indifferent. That was a scary feeling. Not to mention, the first day after I took it, I almost soiled myself at work. Effed up. I have a fear of using the bathroom at work and it was like a scene out of American Pie when they pranked the guy and he had to force himself to use the bathroom at work and basically annihilate the bathroom. It wasn't pretty and I will no longer laugh at those that have close calls.
Once I got past the couple days of nausea and no appetite, I felt good. I wasn't sleeping as much and I was able to focus at work. Of course things never stay good for me…. On Friday, I decide to finally up my dose and boy was that a mistake! A couple of hours after,  I felt flush and hyper like I had way too much caffeine. Then the twitching came. My left shoulder, thigh, and foot kept twitching uncontrollably. Both of my sides did it too. It was crazy so I stopped the meds and haven't taken them since Friday. The twitching was still bad on Saturday so I tried to sleep the day away hoping the the twitches would slow down but they didn't. On Sunday they were a little better and today they are pretty much gone but my sides still twitch.
I'm now rethinking the whole meds thing. Is it really worth it? Do I really need to take something that causes symptoms like this? I go see the doc tomorrow so I'm sure he's going to try to prescribe me something else. *sigh* Will I take it? I don't know yet….