Posted by Unpredicted in
Random Rants
on 11 6th, 2009 |
no responses
>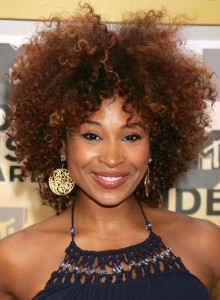 So today I got my first negative response to me cutting my hair off and going natural. I told my male friend that I had chopped it all off through text. After a delay he responded Why? I told him because I wanted to and for hair health. He then asked if my husband liked it and then asked if we could hold off on studio pics until it grows back. Now I cut it all off in May and never told him because I knew this would be his reaction. I had just cut it and was trying to get used to it myself and I didn't want to tell him and get negative feedback. That just hurts your feelings and make you second guess your decision. I decided to tell him today and of course got the "It's not my thing" response. Oh well.  It was the fact that he felt I was no longer "photo-worthy" that bothered me. GTFOH! Just like I prefer light skinned males, I guess some men prefer long hair. I never told him I couldn't hang out with him because he was darker skinned. Oh well.
I've had long hair before. Been there, done that and it will grow back. I wig it up in the meantime and keep pressing. It's now 2 inches above shoulder length in the back when flat ironed so I'm making progress. I was an inch about my bra strap in the back before I cut it all off. My advice to those who are thinking about going natural is to rock it and don't be ashamed. Don't let anyone's preferences muddy your decisions on BCing (Big Chopping). Over all, the health of my hair is a lot better because I'm not using chemicals.
It was just a little hurtful that that was his first response and it shocked me a little bit. Men are truly superficial sometimes and it's sickening. It pisses me off when you see these middle-aged balding men trying to be picky with the women they are seen with. Uh, hello! Dude, you're no prize yourself so how in the hell can you be picky? You have these fat bastards that will only date a size 2 but guess what, you had better bring something extra to the table.  You had better have deep pockets to be able to have the luxury to pick your women. It's just funny because everyone knows women are superficial but I have never really encountered a guy being so. It's disgusting and the next person who approaches me and says something smart better hope I don't punch them in the throat. I do me, and if you don't like it keep it movin'….